Summertime is almost upon us, and we will all be jumping into pools to cool off. Dogs enjoy cooling off too and here are a few safety tips.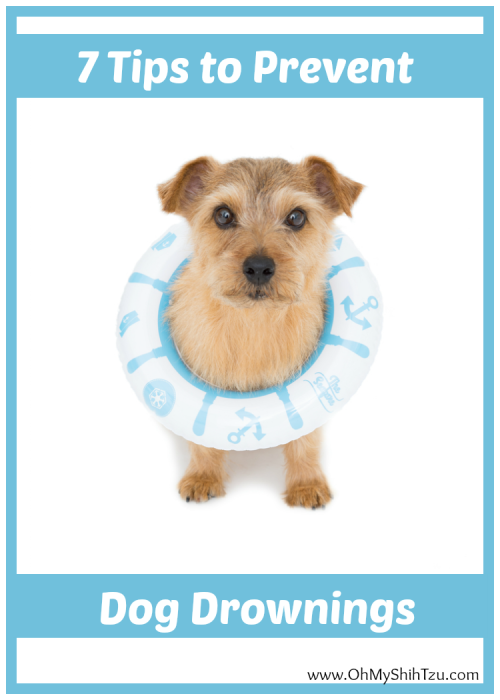 7 Tips to Prevent Dog Drownings
Teach Your Dog to Swim – it is a myth that all dogs are natural-born swimmers. Teach your dog in a safe loving manner using positive reinforcement. NEVER throw your dog into the pool . This can create fear and panic resulting in ingestion of water. I actually remember and incident a few years back that left me flabbergasted. At the time my husband and I were living in Utah and we went on a hike with one of his co-workers. The co-worker had the most beautiful english bulldog. But the guy was an idiot and threw the dog in the river!! I was beyond shocked, what an idiot this guys was. It was horrible to see the dog struggle and the fear in its eyes as it got back to shore. This could have ended horribly simply for the fact it was a river, but the dog was also brachycephalic, meaning that it has a short snot, which can cause it to ingest water quickly unlike a dog with a long snot.
Buy A Life Vest! This is a great investment. I have several for the girls. Personally I love the vests that have a float piece that sits under the chin, these are by Outward Hound ! Remember thought that even with a vest, never leave your dog unattended in a pool.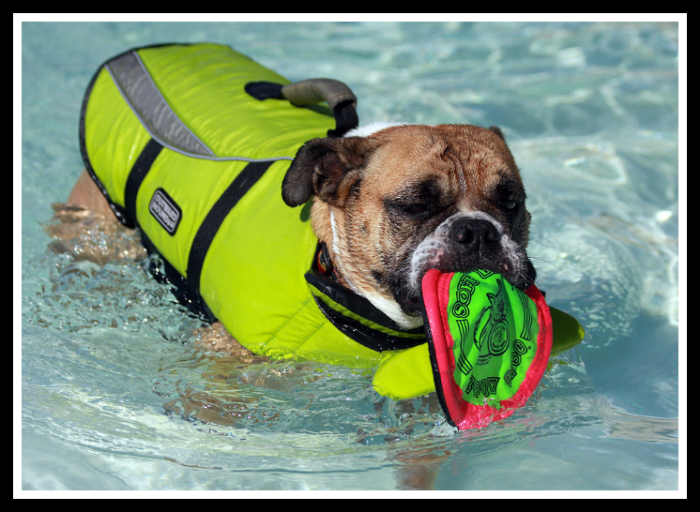 Learn Pet First Aid & CPR – Learning pet first aid and CPR can save your dog's life. If you have to administer CPR, always make an immediate visit to the vet. Death from drowning can occur hours later, this is known as dry drowning. There are many ways you can learn pet first aid and CPR. I highly suggest finding a class that you can actually learn life saving techniques with "dummy" pets.
Here are a couple of places to find a class near you:
Install a Pool Fence – The sad fact is that this is something that is always done after a family loses a dog 80% of the time. Sadly a couple of years ago we became a part of that statistic. Our newly found Pekingese went outside during New Years eve while we went out to dinner. It was a very cold December evening and the gunshots and fireworks had scared her and she fell into the pool. If you do not have a fence around your pool, or it is not protected someway from pets or little kids, I hope you don't have to experience what our family did. It is so heart wrenching knowing you could have done something to protect that one little life. I saved her from the horrible streets, to die in what was I thought the safety of our own backyard. I vowed never again would we take a chance of having another life lost.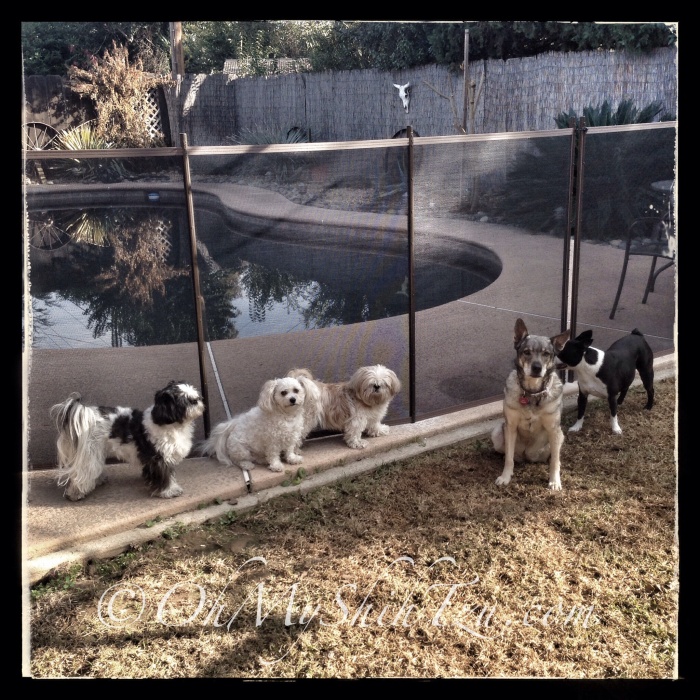 Never Leave Your Dog Unattended – Even if your dog knows how to swim never leave him unattended in the pool. Cramps, unexpected seizures and many more unknown factors can occur that can cause a drowning.
Teach them Where the Steps Are – This may be self-explanatory, but if they know where the steps are and can swim to them it just may save their life.
Install a Doggie Ramp – There are some great doggie ramps that you can install in your pool. Before we had the fence installed, we installed a Skamper Pool ramp at the deep end of the pool so there was a closer option if the dog fell in on that side of the pool. And we always made sure the dog was taught how to use the doggie ramp and wasn't afraid to use it. One of my pet peeves with dog owners is that they like to assume the dog knows how to do things. Well, did you just hand your child a bike and told them to ride? Of course not! You taught them until they got the idea and were not afraid to do it on their own.
So this summer have fun, enjoy your pool with family, friends and pets. Just take precautions in doing everything you can to protect your dog from an unwanted drowning. Do not let your dog become a statistic.
Photo Credits:
Flickr – Gloria , Shutterstock