Wow! It is cold. Now I lived in Utah for 5 years, so I know what cold is. But now that I have readjusted to the California lifestyle (flip-flops, t-shirts, and tattered jeans) my noes were chilled to the bone at our last agility lesson. I was nice and comfy being bundled up in a pull-over hoodie and a zip-up hoodie, but I searched the truck high and low for Riley's Stretch Fleece but it was nowhere to be found. I left it at home!! And since home is 83 miles away we were so shih tzu out of luck! Luckily I hadn't cleaned out my truck from our last adventure, Lure Coursing, so I was able to find a pair of pj's in the back seat!
Seriously Cold
OMG, it was about 40 degrees out, so without her fleece I was forced to put on the pj's. But even her pj's didn't help, the little girl was shivering.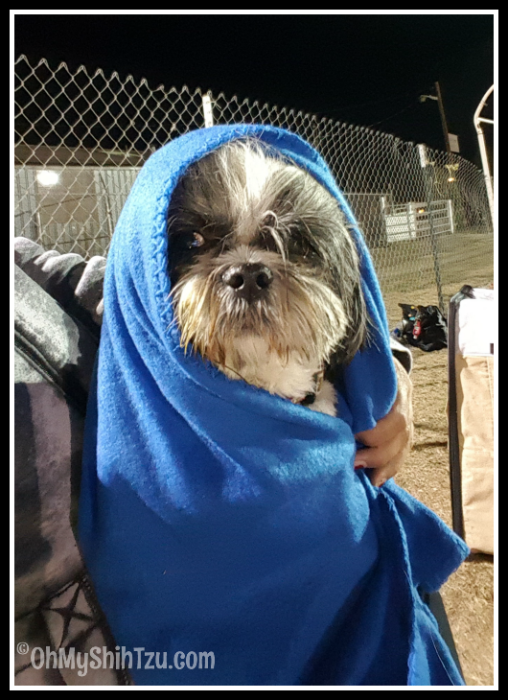 I am so glad I keep an emergency fleece blanket in the truck and boy was it needed. With only her pj's this little Shih Tzu was ready to freeze to death. So I learned a big lesson, never travel without extra dog clothes in the truck!!! What lesson have you learned when it comes to the weather and your dog or dogs? Let me know in the comments below.