I live in the San Joaquin Valley of California so that means that our winters can be wet and foggy. The worst thing is that the cold combined with the wetness makes it absolutely bone chilling. Now I know what you are thinking, 'You don't even have snow, how can it be that cold'? Well after leaving in Utah for 5 years I always found it worse to come home to California in the winter… brrrrr. I always made sure that I took home my nice warm comfy fleece jackets.
So when the folks at Gold Paw Series wanted Riley to try out their stretch fleece jacket I was more than happy to give it a try. If you remember, last year we tried the Astoria Overcoat. Well what I love about this fleece is that like the overcoat it can be used as a stand alone fleece or combined with the overcoat for those colder temps.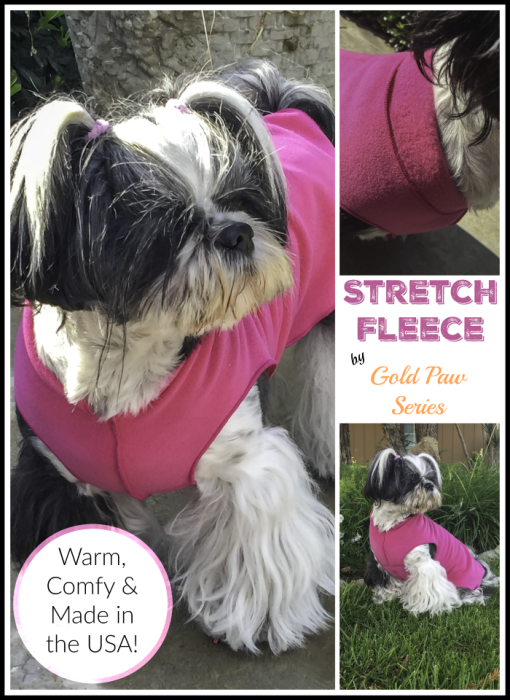 5 Great Features of the Stretch Fleece
Made in the USA!
I don't know about you, but I'm tired of all my clothes being from overseas. It's great when a company cares about keeping jobs here in the USA. When it's made in the USA there is a sense of pride and workmanship that you can see and the Stretch Fleece is no exception to this.
Recycled Polyester
There is so much waste in the world, it's nice to know that we can try to be a little green with our little ones clothing. Learn more about how Gold Paw Series is conscience about its impact on the Earth.
Quality
Soft, soft, soft and the most beautiful stitching. In addition the Stretch Fleece is so easy to care for, just machine wash and tumble or hang dry!
Easy Fit
Since the Stretch Fleece is made with 7% spandex it retains its shape! In addition since there is no velcro, you don't have to worry about your Shih Tzus long hair getting caught up. Just slip over their head and they are nice and warm. The Stretch Fleece is not too thin and not too thick, it's just right to keep the chill from getting to your dog.
Sizing
I really love this fleece and think it is a great complement to the Astoria Overcoat. What I love is that the sizing guide is very accurate and Gold Paw Series also has a great video Fit Guide on measuring your Shih Tzu for a proper fit of their clothing line. Since Riley is a bit of a bigger Tzu, I ordered a size 14 to give a snug fit and it's perfect.
So if you are looking for that perfect Stretch Fleece Dog Coat to keep your Shih Tzu warm this winter, I highly suggest the Gold Paw Series!
Disclaimer: We would like to thank Gold Paw Series for providing Riley with a Stretch Fleece Jacket. There was no monetary compensation for this post. All opinions are that of Oh My Shih Tzu. We share information we feel is relevant and of importance to our readers. Gold Paw Series is not responsible for the content of this article. Please note this post contains affiliate links.