So here we are once again, black n white Sunday… back from a little hiatus of a couple of weeks. Well not really a hiatus, back from Blogpaws and finally finishing up my projects for a couple of my photography classes. I am happy to be celebrating on of my favorite days of the week, Black & White Sunday. Today I am sharing a couple of pictures that I turned in for one of my final projects, titled the "Life of My Dogs". A great series of photos depicting the lives of my dogs. All shots were taken with a DSLR and developed in the darkroom with digital negatives. The photos below are from the actual digital files. I am also happy to report that I received an "A" for my final project!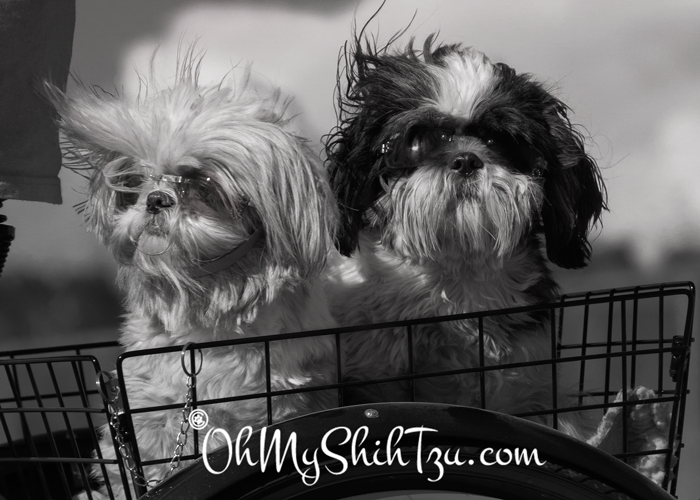 The above picture is one of my favorites. Katie and Riley love going for rides in the back of the trike with their Doggles on. They are so cool and I must say look adorably cute. They can ride around in the basket for hours and be as happy as to little peas in a pod.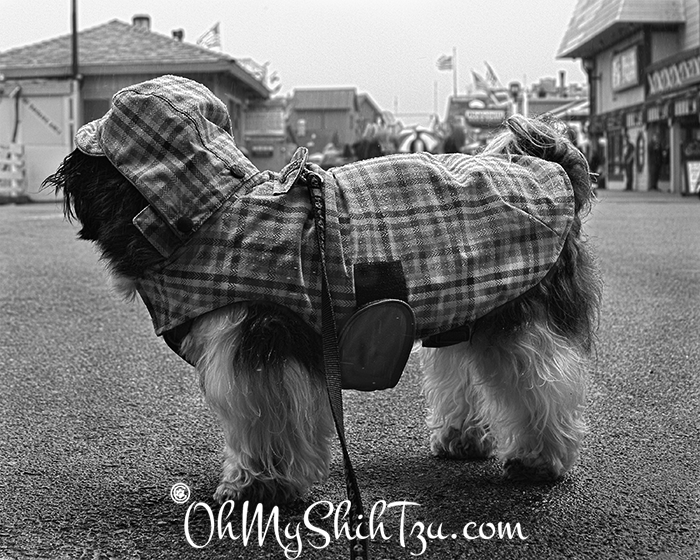 A few weeks ago Riley and I headed to Monterey, CA to check out a couple of museums and while we were there we headed to the wharf to get some yummy clam chowder bread bowls for lunch. Afterwards we started walking around the wharf when it began raining. Like a good Shih Tzu mommy I had Riley's rain coat on hand, but left mine in the car. So we thought of waiting it out under a building for a while, but after 10 minutes the rain was not going to let up, so I endured the 1/4 mile walk back to the car and ended up soaked, but Riley was nice and dry, well, except for her feet.
If you would like to see a few more photos from this project, be sure to check out In the Mirror and Quiet Sepia Saturday.

We are so excited today to be joining the Black & White Sunday Blog Hop hosted by Nola Dachshund & Sugar the Golden Retriever. Be sure to stop by and check out their blogs today and also all the other wonderful bloggers participating with their incredible Black & White photos!