Cody, Super Shih Tzu Saturday Shih Tzu of the Week
Today's Super Shih Tzu Saturday Shih Tzu of the week is Cody!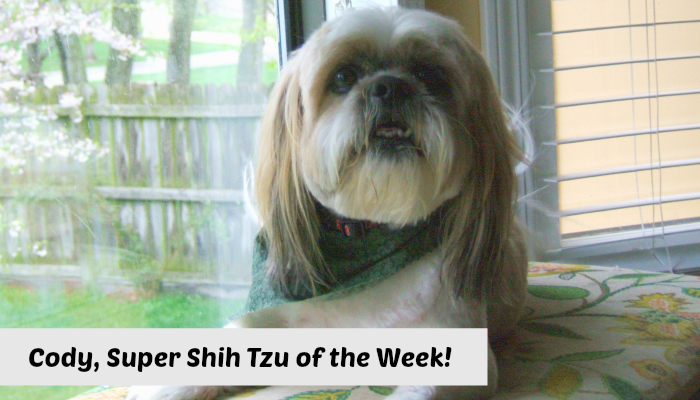 Name
Cody
Nicknames
Codes, Codesey, Dog
Age
I'm 12 years old, I'll be 13 in September on my Great Grandma's birthday.
Gender
Male
What are your favorite foods?
Chicken!!! Especially the fajita spiced chicken that Dad cooks for tacos!!! Yum-Yum
What is your favorite toy?
Paper towel tubes!!! Mom makes a horn sound through them and I get all wound up and excited, then I chew them into pieces. I don't eat them, just tear them up. It's so much fun.
Do you have a special place you like to be, either your bed, a trip to the beach or even a secret hiding spot?
My favorite place is Mom & Dad's king sized bed. We play and snuggle there. I love to sleep in the middle. I leave enough room for them on the edges to sleep. It helps keep me from falling off their bed.
Do you perform any special tricks?
I am a Tzu paper shredder. I love to shred any paper that hits the floor.
What is the funniest thing you have done to your mummy and daddy?
When I was little, with the help of my sister, I carried all Mom's laundry out to the back yard. I had seen other people's outside. I didn't know it had to be washed first. Whatever that is. I was just trying to help Mom with her chores.
Do you have a bff?
My Bff was my sister Sasha, but she passed away 4 years ago. I have recently taken a likening to this sheltie named Maddie. She's Hot!!!
This last question is for your mummy or daddy. If you could talk, what celebrity or person would you sound like?
Mom & Dad think I would sound like Robin Williams. They say I act silly like him at times.
Cyndi's Tidbits
He is handsome, and my little guy,otherwise he really is not super at anything. I just love him and he loves me. I think that makes him super!
Thanks
A special Thank You to Cyndi for submitting Cody as the Super Shih Tzu Saturday Shih Tzu of the Week!
If you would like to submit your Shih Tzu for our Super Shih Tzu Saturday Shih Tzu of the week, you can do so HERE ,– click link!