It's summertime and heat exhaustion in dogs can occur a lot faster than you may think. If you walk, run or do other outdoor activities with temperatures over 85, knowing the signs of heat exhaustion may save your dog's life.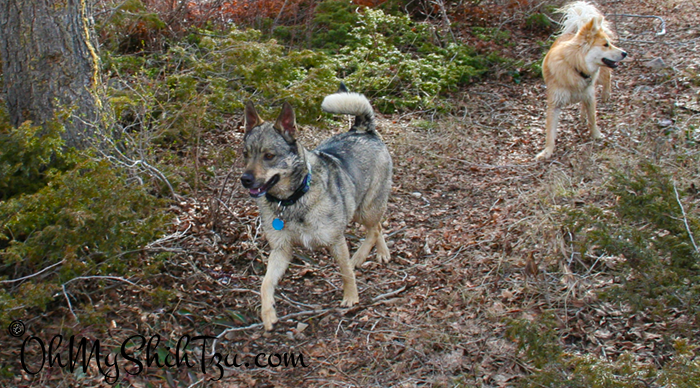 Signs of Heat Exhaustion in Dogs
Early Signs
Panting
Increased heart rate
Increased respiratory rate
Drooling
Vomiting
Diarrhea
If you are in need of some basic info on First Aid / CPR, be sure to check out Pet Safety First Aid/CPR.
Urgent Signs
These following signs are severe and time is of the essence, as death may be just around the corner.
Change of Gum Color
Weakness
Stumbling
Seizures
Coma
Treatment
If you suspect heat exhaustion in your dog, SEEK VETERINARY ATTENTION IMMEDIATELY!
Get dog out of heat, if you can not get inside a house or building, seek out the closest shade.
Use cool wet cloths on the paws and head.

DO NOT

use ice water, as rapid cooling could cause blood vessels to constrict. USE COOL WATER.
Have ice cubes on hand for your dog to lick.
Even after applying treatment to your dog, continue to seek medical attention. Though they may seem to be doing better, internal body temperature could be high can cause internal organs to be damaged.
Breeds Susceptible to Heat Exhaustion
Any breed that are brachycephalic (smooshed nose), those that are heavy coated, or if your dog has any type of respiratory or heart related diseases. Here is a short list to watch out for:
English Bulldogs
Pugs
Boston Terriers
Shih Tzus
If you also need some ideas to keep your pet cool while outside, visit 5 Ways to Keep Your Dog Cool in the Summer. Now that you have the facts and tips regarding summer heat, remember to take care of your self also. Last Friday I promised pictures of regarding the remodeling of the catio into a training center, but with the 105+ heat last weekend, there was no way I was going to be out working either. This weekend our temperatures have dropped so remodeling will continue this weekend.
We are once again happy to be participating in FitDog Friday, hosted by our friend Slimdoggy along with their co-hosts Peggy's Pet Place and To Dog With Love.