A Shih Tzu missing in action, but not really. Looking back through our blog we have always taken a little time off in the fall, but for us this year it came a little early! I would like to tell you that Riley and I have been on a great big adventure, but that isn't true. Since our big weekend at our first CAT (Coursing Ability Test) event we have been gearing up for the beginning of our fall agility lessons. We did take the summer off in regards to lessons, but we have ramped up at home training with a new practice location!
I hate to say it, but sometimes we need a good kick in the arse to really get us going. For me it was finding my dogs true potential. Also I began to realize I was the one holding her back in her being all she can be. Basically it has been a fear of competition with my dog that has been holding me back.
As a child and a teenager I showed Arabian horses, and though I have many blue ribbons and trophies, I always suffered from extreme anxiety before entering the show ring. It's this same anxiety that has kept me away from competing in agility trials with Riley early on and pushing her to overcome the teeter. I have used her fear of the teeter to cover up my own anxieties.
Well NOT ANY LONGER!!! Since our first CAT, we have attended another CAT and are now only 2 runs away from our Novice Title. With a little good luck we will be able to secure our second title over Halloween weekend. And though I know this isn't agility, my fears of competing are flying out the window. Why? Fun! Yes we are having so much fun together and I know she is having a ball! My anxiety has turned into a wonderful euphoria after each event and as a result Riley is gaining tremendous confidence in her agility practices.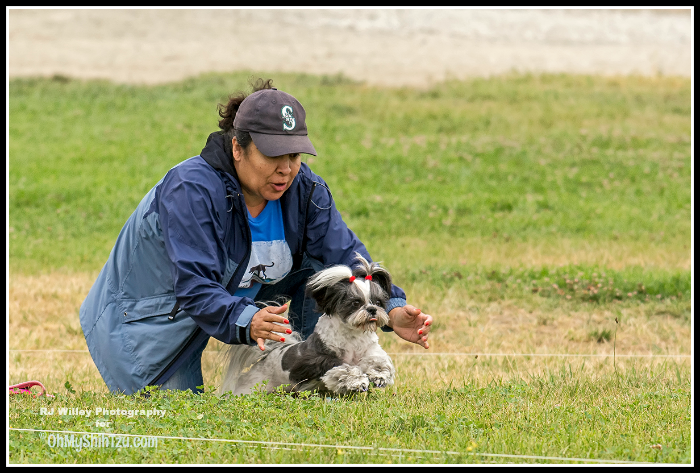 A couple of weeks ago I wrote, Oh Riley, Come On… Shih Tzu Agility Training Frustrations and in that I wrote,
"Though we may have a dream of what our dog will be, maybe that is not that path for them. The important thing is having that connection and bond with our dogs whether or not they compete in sports."
I finally took that in and discovered that my life in dogs sports is a lot like that video featured in the post by Will Young. As for Riley and me, well our bond is unbreakable and I am so glad to be her person.
So what can you expect from all the girls at OhMyShihTzu? Well we are expanding! Not just with more Shih Tzus, but with more small breeds! Some new series you can expect to see:
Riley's Training Log
Unlike our normal posts, this will be somewhat bare bones with agility graphics and explanations of daily skills we are working on, expectations and goals along with daily results. We will be working on exercises provided from current agility courses I'm enrolled such as Susan Garrett's Handling 360 along with my weekly agility homework from my instructor. I will also be working on jumping skills found in Alphabet Drills by Nancy Gyes.
Old Dog, New Trix
A dog is never to old to learn some new tricks. For us that means enlisting our 10-year-old Boston Terrier Daisy. Join us as she begins the new sport of Barn Hunt!
Conditioning at Home
To avoid injuries on the field means staying in shape and working out at home! No weekend warrior doggies here! Find out the fun ways we incorporate staying fit and healthy with FitPaws conditioning equipment!
Super Small Dog Sports Saturday will be joining Super Shih Tzu Saturday!
Do you have a small dog who loves to compete in sports? Let us know! We would love to show how small breeds are breaking stereotypes!
We're EXPECTING!
Yes you heard it here first. Hopefully next spring/early summer we will be having a new little furball join our family. I'm super excited and can't wait for the arrival. Join me as I go through steps in preparing for our new puppy! And then when the puppy arrives lots of fun training with our young athlete!
I'm so exciting for the upcoming months and next year! And thank you to all our readers for supporting us and giving encouragement along the way. I can't tell you how much your emails and comments mean to me!
Woofs & Wags,
Christine & Riley