Today we are giving you, our readers a little insight into Oh My Shih Tzu by joining in the 2015 Pet Blogger Challenge! The wonderful folks a Go Pet Friendly are hosting this wonderful event to get to know the some of the coolest pet bloggers around!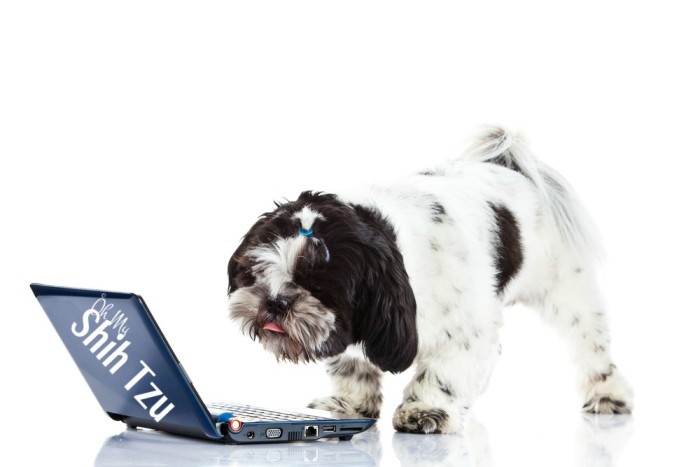 1. How long have you been blogging? And, for anyone stopping by for the first time, please give us a quick description of what your blog is about.
We started our blog in the spring of 2013 when our little man Mr. JoeJo was at the end of his little life. Diagnosed with Canine Cognitive Dysfunction we wanted to share some of our experience with others. Our blog now is about my crazy life with 4 Shih Tzus, a Peki-Huahua, and a crazy Malti-poo. Though we target other Shih Tzu owners, regarding health, grooming, care and agility, we hope that other dog breed owners find our messages informative and helpful in the lives of their dogs too!
2. Tell us one thing that you accomplished on your blog during 2014 that made you proud.
In 2014 I was a finalist in the Nose-to-Nose Awards for Best New Pet Blog at the Blogpaws Conference held in Las Vegas. We didn't win, but the nomination and becoming a finalist was a huge accomplishment. I felt very grateful and honored.
3. What lessons have you learned this year – from other blogs, or through your own experience – that could help us all with our own blogs.
I am constantly learning every day. I think the most important thing to do is to develop your own voice and discover and write about, or in my case photograph what is true to your heart.
4. What have you found to be the most successful way to bring traffic to your blog, other than by writing great content?
For us highlighting other people's Shih Tzu's has been great. Last summer we started Super Shih Tzu Saturdays in which other Shih Tzu owners nominate their Shih Tzu's to be our Super Shih Tzu of the week. We had to take a short break during November and December,but we will be kicking it off again next Saturday. It's actually my favorite post to do as I get to learn about other people's Shih Tzus and what makes them so special.
5. What was your most popular blog post this year? Did it surprise you that it was your most popular?
Our most popular post is It's not just old age…signs of Canine Cognitive Dysfunction. This does not surprise me that this has been so popular as many people don't know the signs of this disease in their older dogs.
6. What was your favorite blog post to write this year?
Wow, this is kind of hard, but I believe my favorite post The Joy of JoeJo: Faces of Canine Cognitive Dysfunction. I was finally able to create a video of him and his journey with this disease. Though I still hurt and cry for him, the post was very healing for me.
7. Has your policy on product reviews and/or giveaways changed this year?
I am not a blogger who does a lot of reviews or giveaways. But this year I will be developing a new policy for reviews and giveaways. I believe in natural products, made in the USA and small business. Since I am a raw feeder and I generally make my own treats, the reviews and giveaways are few and far between.
8. What's your best piece of advice for other bloggers?
I used to beat myself up because I didn't seem to have the numbers as other people did. But once I created my business plan for my blog and established a mission statement, set goals, etc. I no longer felt the pressure I was placing on myself. Don't try to compare yourself to others, just develop your own voice. Oh, and make sure to use a calendar and schedule posts well in advance, so that way if you are in a big accident or life takes you for a big turn your blog will continue on.
9. What goals do you have for your blog in 2015?
As soon as I am able to walk again, we will be starting a series on Agility with your Shih Tzu and all the sports little Shih Tzus can do. In addition to the following:
Fashionista Fridays: our semi-monthly fashion blog highlighting the wonderful designers from Etsy for your small dog.
Natural Health Care & Feeding – why we believe in feeding a species specific diet, supplements and homemade treats.
Super Shih Tzu Saturdays! – yup its returning as we highlight other Shih Tzu's from across the globe.
10. If you could ask the pet blogging community for help with one challenge you're having with your blog, what would it be?
I really don't have anything to ask. Everyone has been so wonderful with the support I've received this past year. I would just suggest to other bloggers to reach out to one another. If you are an experienced blogger, take a new blogger under your wing. Believe it or not, but the friendships I have made with other bloggers has given me so much inspiration, especially when times have been bad. It's so nice to have people there when you have Grumps, Gripes or just need to make some sort of Plots of Revenge.
Thanks so much for stopping by. We have enjoyed having you and being a part of this wonderful Pet Blogger Challenge.