Bo-Bo, Super Shih Tzu Saturday Shih Tzu of the Week
Today's Super Shih Tzu Saturday Shih Tzu of the week is Bo-Bo! I fell in love with this cutie many months ago… and now so will you!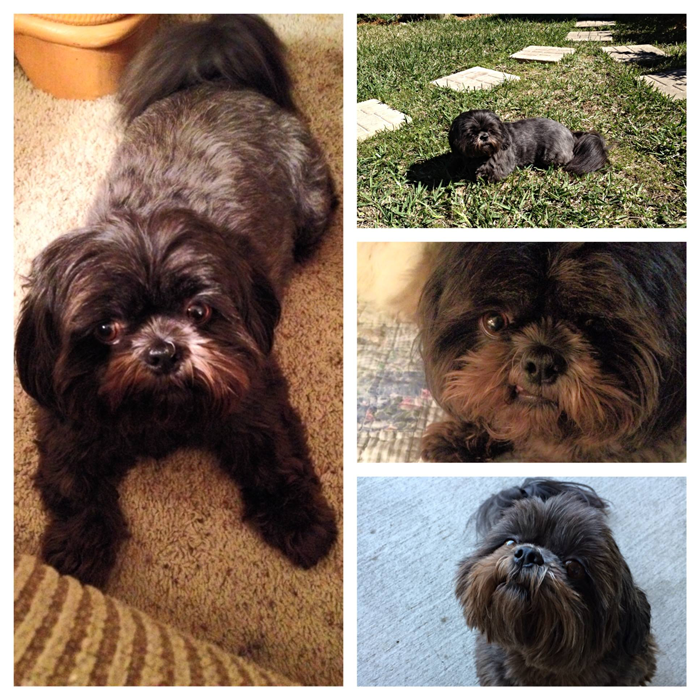 Name
Bo-Bo
Nicknames
Baby Boy
Age
5 years old
Gender
I'm a Boy!!!
What are your favorite foods?
My mom says I'm like her and that I like carbs (I don't know what that is!) and that I really like sweets- which she doesn't let me have often. Boooo. I like meats and I do not like fruits or veggies. I won't even eat a veggie if my mom tries to disguise it with sauce. I do love cheese and yogurt.
What is your favorite toy?
I have this one green squeaker that I've had since getting adopted. It is my absolute favorite and I handle it with great care. It is a toy that I haven't destroyed or tried to take the squeaker out. I love rubber squeaker toys. My sister, Munchkin, likes soft fabric squeaker toys better.
Do you have a special place you like to be, either your bed, a trip to the beach or even a secret hiding spot?
I love to be next to my mom. If she's up late at night, while Munchkin goes to bed with dad, I stay up with mom. Sometimes she moves my bed near where she is (at her desk, the table, in the kitchen) and I stay in my bed, but always near my mom. I also love to sleep under the table and I am also found in my kennel occasionally. Oh! How could I forget….my most favorite place is under my mom and dad's bed.
Do you perform any special tricks?
I understand basic commands. Right now my mom keeps saying, "paw" and picking my arm up, but I don't know what she's doing; neither does Munchkin, but that doesn't stop mom from doing it over and over. My sister and I are excellent at the command stay- no matter how far our mom walks away.
What is the funniest thing you have done to your mummy and daddy?
My mom and dad think it's funny that I always want my belly rubbed every time they touch me. However, they say I always roll over just out of arms reach. I am also a BIG time talker and I love to howl with my mom. She taught me how to howl. I like to try and make the neighbors hear me!
Do you have a bff?
MUNCHKIN!!! But, she can be a pain in the butt sometimes. She's always attacking me and sometimes I just wanna be left alone.
This last question is for your mummy or daddy. If you could talk, what celebrity or person would you sound like?
Bo-Bo is mostly a mellow fellow and I think he would sometimes sound like Eeyore, but I also think he might have a deep voice like James Earl Jones. However, when he's excited he can have a high-pitched excited voice- much like a 10-year-old boy.
Thanks
A special Thank You to Tracy Knowles for submitting Bo-Bo as the Super Shih Tzu Saturday Shih Tzu of the Week!
If you would like to submit your Shih Tzu for our Super Shih Tzu Saturday Shih Tzu of the week, you can do so HERE ,– click link!