Chloe, Super Shih Tzu Saturday Shih Tzu of the Week
Today's Super Shih Tzu Saturday Shih Tzu of the week is Chloe!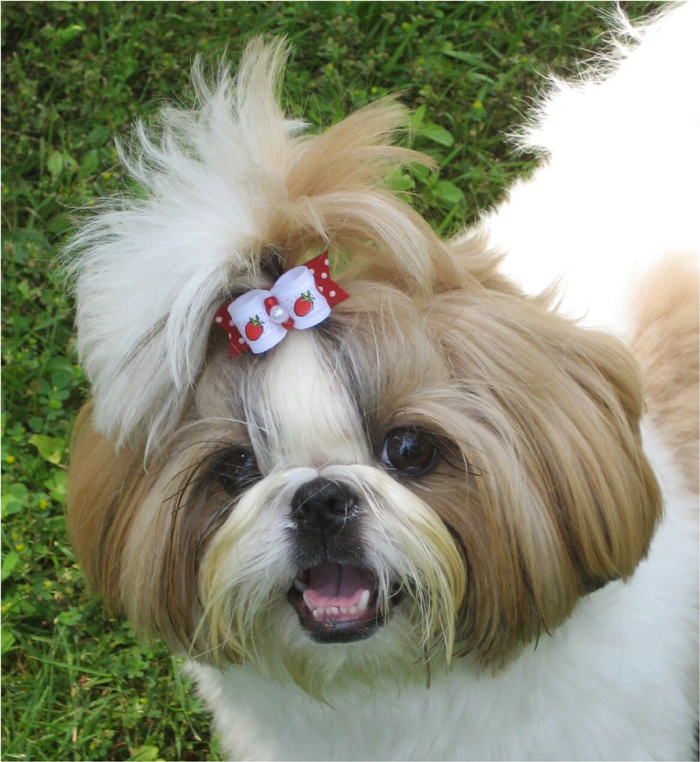 Name
Hi! I'm Chloe
Nicknames
Chloe Bug, The Chlomeister, Chloe Babykins, My little Chloe Monkey
Age
4 years old on March 12, 2014 (my mommy's grandmother's birthday)
Gender
Female
What are your favorite foods? Do you like fruit or veggies?
Besides my yummy canned dog food, I love cheese, carrots, apples and of course the yummy treats my mommy buys for me.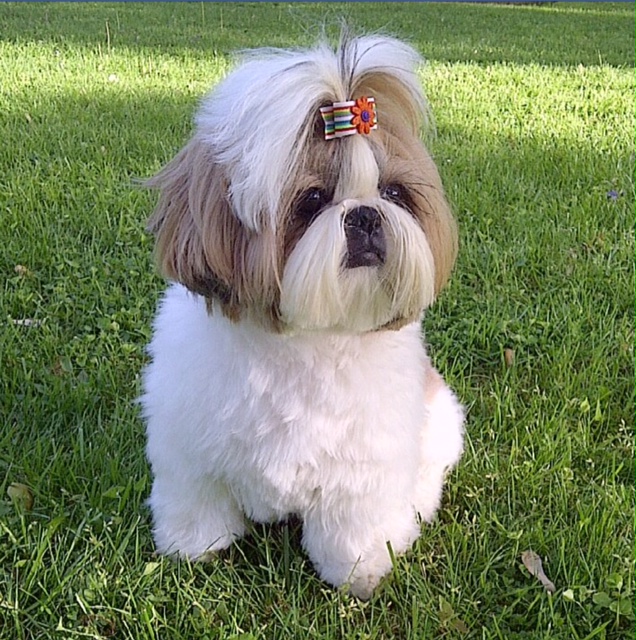 What is your favorite toy?
I have so many toys and I love them all but I guess my favorite are my two balls – one is soft that I play with inside and the other is a rubber squeaky ball that I chase outside. I just love fuzzy squeaky toys, too.
Do you have a special place you like to be, either your bed, a trip to the beach or even a secret hiding spot?
I love to be on the sofa next to my mommy while she watches TV as I am a big snuggle bug. I also love to go on therapy visits and visit the seniors. I am a Registered Therapy Dog with Therapy Dogs Incorporated. (I also have my AKC Canine Good Citizen title and certification)
Do you perform any special tricks?
Absolutely! I know 30 commands/tricks. I think the one everyone likes the best is when my mommy sneezes, I go and get her a tissue.
What is the funniest thing you have done to your mummy and daddy?
Hmm, let me see. Well, I think it is when my mommy and daddy were sitting on the sofa eating dinner and watching TV and I pulled the pillow from behind Daddy's back and laid it flat on the sofa so I could lay on it. Daddy and Mommy got a big kick out of that.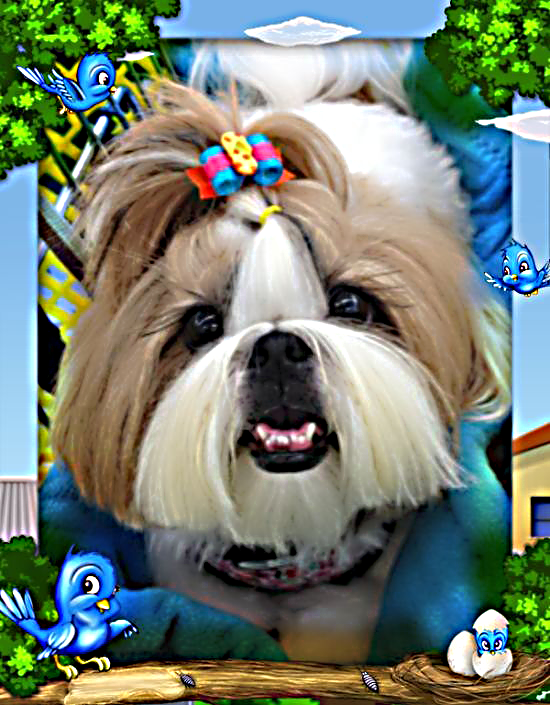 Do you have a bff?
Besides my Mommy and Daddy, I have a Shih Tzu Facebook girlfriend, Georgi Bubbles, but we haven't been able to meet each other in person yet. Her Mommy and my Mommy say we look like we could be sisters because we look so much alike.
This last question is for your mummy or daddy. If you could talk, what celebrity or person would you sound like?
We think Chloe would probably sound like Goldie Hawn.
Momma Joanne's Tidbits
Chloe came into my life on July 17, 2010, only 9 days after I had to put my previous precious Shih Tzu, Jellybean, to sleep. I was totally devastated and had thought I would not get another dog for a while, but something kept driving me to go online and look for Shih Tzu puppies. After much searching, I ran across an ad for a 4 month old female Shih Tzu and made the call to the breeder. From that point on, there were so many coincidences that lead me to believe that my beloved little Jellybean, who was now at the Rainbow Bridge, had arranged for Chloe and I to be together. There are too many coincidences to write about here, but here's one. After having Chloe micro-chipped, I was able to get a lifetime dog license. When it arrived in the mail, the numbers on it were 0s and 9s and a 4 and a 5. Well, Jellybean's birthday was 09/09/95. (And if you add the 4 and the 5 together, they equal 9.) It gave me the chills when I first saw it. Another coincidence is that Chloe was born on my grandmother's birthday – March 12th, and she is also a little Pisces, just like me. I know in my heart that my little Jellybean played a part in sending Chloe to me. Chloe is such a wonderful little soul, just like Jellybean was. Chloe is beautiful inside and out. She is so happy all the time and tries to make everyone around her happy, too. She loves all people and when we are out and about, she has to go up to everyone that passes by and greet them and spread happiness. She is so smart and enjoys learning new tricks and commands. I knew after having her only a week that she would make a wonderful therapy dog. Chloe loves visiting the seniors and they love her to pieces, too. They are so happy when we visit them. Chloe is a bit of a celebrity, too. Back in 2011, Chloe was one of 5 national finalists in the Eukanuba 28-day Challenge Champion Contest. Unfortunately she didn't win the grand prize, but she is the grand prize winner in my eyes. She was the only small dog among all 5 finalists. I am so blessed to have such a wonderful little gem of a dog.
By the way, Chloe has her own Facebook page:
Chloe Capers – www.facebook.com/ChloeCapers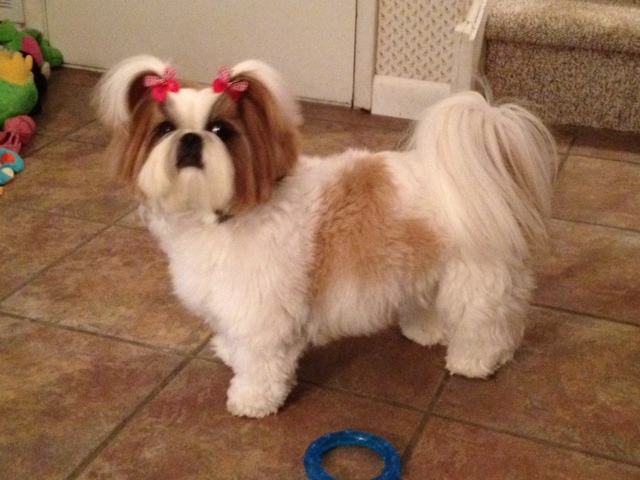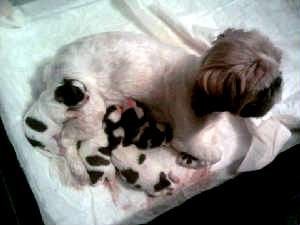 A special Thank You to Joanne Porter for submitting Chloe as the Super Shih Tzu Saturday Shih Tzu of the Week!
If you would like to submit your Shih Tzu for our Super Shih Tzu Saturday Shih Tzu of the week, you can do so HERE ,– click link!