Can you believe that the 2015 Blogpaws Conference is just 3 weeks away? Riley and I are so excited. Okay, so I am the one that is really excited, Riley doesn't know what she is in for. Even though the Blogpaws conference is kicking off on the 27th, Riley and I will be meeting our friend Tracy with Pawesome Cats from Australia and boarding a flight to DC on the 18th. So this means that we will be away from home for a total of 15 days. Quite frankly this is the longest I or Riley have been away. So making sure her suitcase is packed properly for this extended trip is of utmost importance.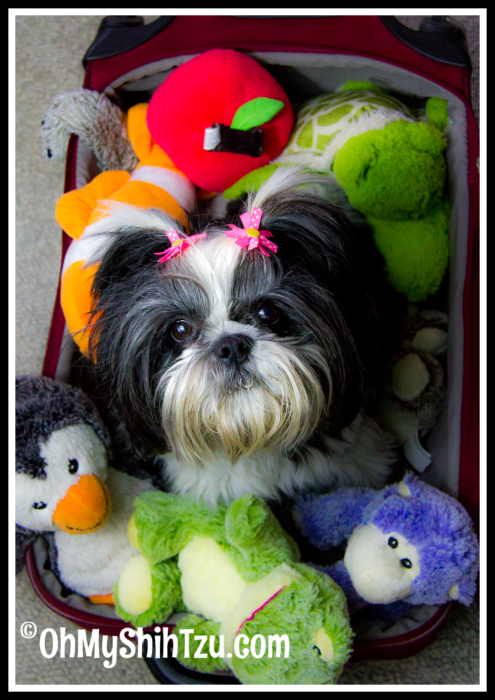 As you can tell from this picture, Riley has her own idea of what needs to be packed in her suitcase for our trip.
Our Essential Items
Food & Treats – for us that means at least 1 bag of dehydrated raw and some homemade sweet potato treats. I want to be able to keep things as normal as possible for her and will keep her feeding schedule on PST time while visiting DC and Nashville.
Bowls – because of the extended time we will be away from home, I am not bringing a collapsible bowl, but her standard stainless steel bowl.
Favorite Toy – I will be taking her favorite fluffy and also a couple of her favorite Chuck Its! Since an extended trip can be a little stressful, I have to make sure I incorporate a lot of playtime.
Proof of Vaccination and Insurance Certificate – I will keep a copy of her vaccinations, health certificate and health insurance on my person at all times.
Current Tags – This little girl will not be out of my sight for one second, but I will be sure to have current tags on her collar.
Potty Pad – she normally doesn't use potty pads, but I will be taking them for emergencies. We are landing in some big airports and with so much time in the air, she may need to go wee wee. We will be prepared!
Medications & Supplements – keeping her healthy is of great concern. Making sure we have supplements to combat any stress can be very helpful, and since she recently had a bout with gastroenteritis, I will make sure that tummy meds are on hand.
First Aid Kit – wraps, doggy band aids, etc. we will make sure that the doggy kit that is normally in the truck in packed in my bag.
Pet Insect and Sunscreen – I hear there are a lot of bugs to the areas I'm going to… icky, we both need to be protected in this case.
Grooming Supplies – We have an image to maintain, so a brush, rubber bands, shampoo, towels & fragrance are a necessity
Potty Bags – our favorite lavender-scented Earth Rated Bags 🙂
Leash, Collar & Harnesses – Riley has several service vests and we will take both, her summer vest and winter vest as I never know how the weather will be.
Stroller – in our case I want her to also have a safe place and a resting spot when we are out and about being tourist!
Remember that when ever you travel always pick up after your dog and set a great example. So is there anything special you pack for your dog or did I forget anything? Let me know! We love to hear from our readers.
We are happy to be joining in on another Wordless Wednesday, though for these next few weeks we are preparing for our journey to Blogpaws!! If you missed us last week, be sure to check out Why I Choose Pet Friendly Hotels!