Hey everyone! Sorry we have been MIA for the past week. If you follow us on social media, then you already know. But if you don't, then I would like to apologize for taking so long to post. We received some devastating news. Trixie's lab results cam back from her mammary tumor and they came back positive for Mammary Adenocarcinoma. We will discuss this diagnosis further in an upcoming post, but that diagnosis just took all my inspiration to write out of me. Not only was OhMyShihTzu.com affected, but also Healthy Latina Living.
But we are back, unfortunately we will not be continuing the A to Z Challenge. But don't worry, I know a lot of my readers have really enjoyed this agility theme, so we are going to follow it up with a backyard agility series, so stay tuned for it!!!
I wanted to share our weekend with you today. So our weekend started out like this!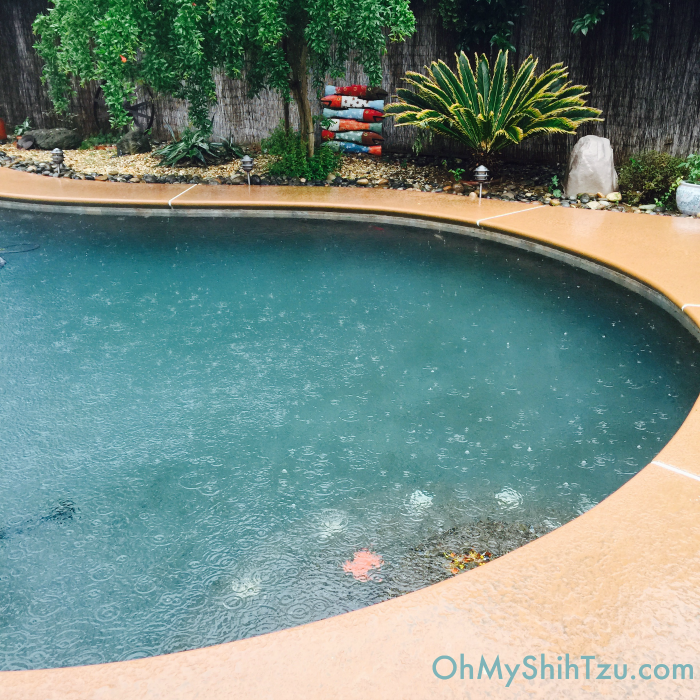 Not exactly how I wanted it to start. I mean I'm not complaining. California has been under the worst drought on record, and here in the central valley where I live it is classified as an extreme condition. I really thought that our pool was going to over flow!
I wanted to attend a lure coursing practice, but it was raining so much! So we naturally thought that it would be cancelled… it wasn't, but they decided to offer the practice on Sunday also. So early Sunday morning Riley and I headed out for a little practice.
If you aren't familiar with lure coursing, it is a sport in which a system of mechanized lures and pulleys that simulate the unpredictability of chasing live prey. Dogs of eligible breeds—sighthounds—are evaluated for follow, speed, agility, endurance, and overall ability as they pursue an artificial lure zigzagging across an open field. ~ AKC.org
Now if you remember, Riley had participated in a hybrid course in October when we went to the Cynosport World Games, see Lure Course Shih Tzu. But at that time the course was filled with jumps and she was chasing a fluffy little tail. I wasn't too sure if she would zone in on a white bag from the grocery store. Much to my surprise she immediately zoned in on it and wanted to run! So much so she began whining because I was holding her and she wanted to go!!
All I have to say now is "YEEHAW!!!" My little girl can run! I think I've found a sport that Riley can really get into! So believe me we will definitely have more to write about this! Especially since there is a Coursing Ability Test in a couple of weeks that we can travel to.
So how about you? Do you think your dog would love lure coursing?
We are happy to once again be joining Monday Mischief! Our favorite blog hop to wrap up the weekend. Make sure you visit some of the other great blogs that are joining today!