Jumping is part of the foundation training in dog agility, so it's important to start off on the right paw so to speak. Warning: if you have a puppy do not make him jump high, setting bars on the ground or at 2 inches is perfect!
If you built three to four jumps from our last post, Backyard Agility Equipment, you are ready to start jumping. If you have the ability, I suggest you buy Susan Salo's Foundation Jumping. Better yet, why buy when you can rent! Just like Netflix, you can subscribe to get the best dog training DVDs with BowWowFlix.com!
In the meantime, I found a great video on YouTube to start you out jumping on the right paw!


Jumps

The great thing about jumping in agility is the fact that there are many different types of jumps.
Triple Spread Hurdle
Tire Jump
Winged Jump
Panel jump
Double Spread Hurdle
If you would like more information about the size of each of these, please refer to the USDAA Obstacle Construction Standards regarding jumps and other contact equipment.
Once you have that and are ready for a few more basic jumping drills, check out Agility Jumping Drills! Here you will find about Riley's first attempts during her foundation jumping class and several drills we used. To this day we still use these drills to warm up and keep her focused.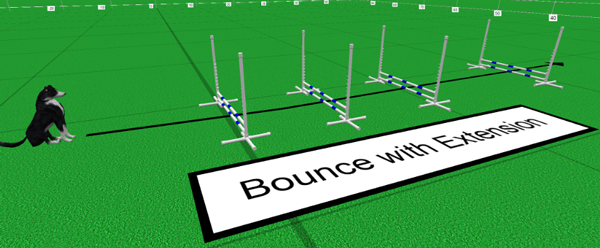 Well… thanks again for joining us. We had very late start in getting our post up for today, actually just coming in under the wire! But we are happy to still be participating in the 2015 A to Z challenge as we celebrated "J" with Jumping!