I am a pet parent, and proudly so. I'm sure you've seen the ton of arguments on the web lately about human parent vs. pet parent lately, but my view of the term "pet parent" will be discussed next week. For now we are just going to go with it.
If you've been following us this week, either here, Instagram or Facebook you are fully aware of my struggle with Riley's health (previous posts: That Noise in the Middle of the Night and Why I'm Thankful for Pet Insurance). But on Wednesday she was admitted into the hospital as her health became worse. Not only was she dealing with the Big D, but she was becoming lethargic and refused to eat. Riley was no longer her happy-go-lucky self.
Day 2 Morning Visit
The next day I was called to the hospital… at first I was terrified at answering the phone, the hospital was calling me before 8am. Why would they be calling so early? Did something happen during the night? In a split second horrible thoughts were filling my head. Luckily the news wasn't as bad as I was fearing, but she was still not eating (I wouldn't want to eat that Rx stuff either!) and since they know I feed her a natural cooked or raw diet they were hoping I could make something on the light side for her and she would eat for me. So after I cooked her some fresh chicken breast I headed over to the hospital.

I recently discovered Periscope so that is why you'll hear more commentary from me. But subsequently after filming I tried everything to get Riley to eat. I tried eating the chicken myself, hoping she would get interested in what I was eating. I attempted to spoon feed her the canned food, and when that didn't work I pulled out a gourmet Baxter's coconut covered cookie, to which she turned her nose up to. By this time the excitement of my arrival had quickly faded and she decided sleeping in the chair on the pillow was a much better idea.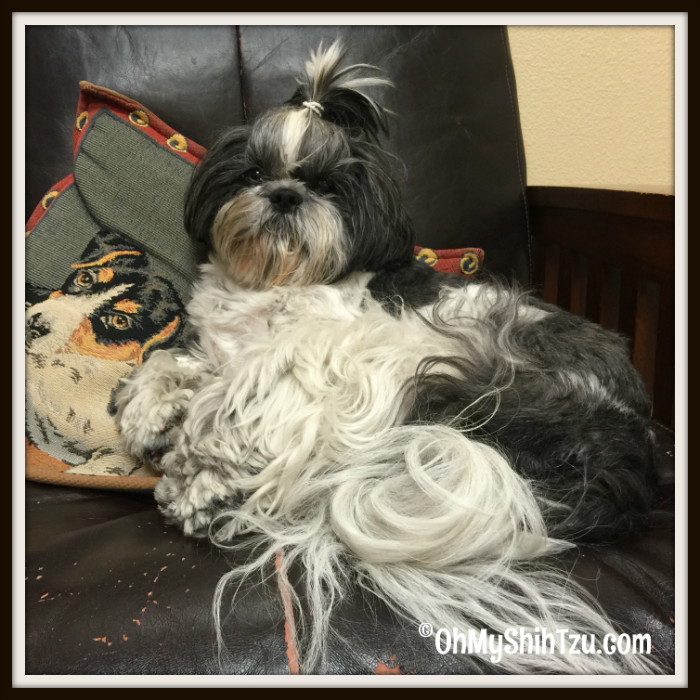 As a result of all this my hopes of her coming home that day were shot out of the water. When I talked with the doctor, my worries were confirmed and she would stay another day. The good news was that her blood work came back great! Kidneys, Liver and Pancreas were all working perfect. There were no parasitic diseases, which I was a little worried about as she was bit by a tick while in Maryland a few weeks back. But x-rays still needed to be taken to rule out any blockages. I went home worried and confused about how my little girl could be suddenly become so ill.
Day 2 Evening Visit
I was hesitant about going for an evening visit. I do care tremendously about her feelings, and with the fact she was having to stay in a little kennel without me was torturous, at least to me anyway. I don't have any pics, but all dogs that are under hospital care are kept in nice kennels within the procedure area. So they are able to watch everything that is going on and they are always being watch by the vets, techs and staff … but the dogs being kept in the kennels certainly are not ignored and receive a ton of pets, hugs and kisses. So I am always worried that if I return does it cause her more anxiety when I have to leave her again? Well I end up going back and this is what happened

I just loved to see her so happy to see me and her little tail wagging… she seemed to be a little bit peppier than the morning. The one thing that I had been worried about was her potty time. I've always taken her out and told her to "go wee wee" or "go potty" and she has always been on a schedule. Unfortunately that schedule does get interrupted when she has a hospital stay, and because she has never been trained using a pad, she will hold it and hold it! After I put her on the floor I asked her if she wanted to go to outside as she immediately ran to the door, then without thinking I asked her if she needed to "go wee wee". Remember I asked her, but she took that as a command and immediately squatted. Oh dear lord I never thought her little bladder could hold so much fluid! The good thing was it looked healthy and clear, without any blood or discoloration! Oh well… accidents happen and I let her know that it was okay and gave her a lot of love. The vet tech Sandy came back in to help clean up the mess and while we were chatting Riley began eating! OH happy days. She didn't eat a lot, but she had a little appetite. Things were now looking good.
Day 3
Again I received a phone call from the hospital before 8 am… this time I wasn't as nervous, but I was still worried. As it turned out the vet tech let me know that she continued to eat the night before and ate breakfast! At that point I knew she would be coming home with me! This was the sigh of relief that I was waiting for. No vomiting, no diarrhea and the return of her appetite! Now all I had to do was wait for the doc to come in and check on her.
At lunch time I got the call from Dr. Collins I was waiting for. Everything was looking good, she was now back to her happy Riley self and I could pick her up about 6pm so she could remain on fluids a little while longer.
Riley is now back home and happy as can be. She had a great little chicken dinner with a little bit of a great holistic digestive aid. Because this is her second bout with gastroenteritis I'm worried about the possibility of it becoming a chronic condition, but I know with a little change in her diet, whether that be supplements, herbs or vitamins we will overcome.
Maybe we should stop asking why real food is so expensive and start asking why processed food is so cheap. ~Rodney Habib