Petcurean Puppy Food
Not all dog foods are created equal. So when you get a puppy don't fall for a dog food that is appropriate for all stages of life. Your puppy has a need for the proper nutrition because of their rapidly growing body. This is why I love the folks at Petcurean, they know exactly what our puppy needs. The Now Fresh recipe line has a puppy food that is made of 100% Fresh Turkey, Duck and Salmon with important Omega 3 & 6 oils. And just like the rest of the Now Fresh Recipes you will never find meat by-products, artificial preservatives or rendered meats. As always the recipe is gluten, grain, wheat, beef, corn & soy free!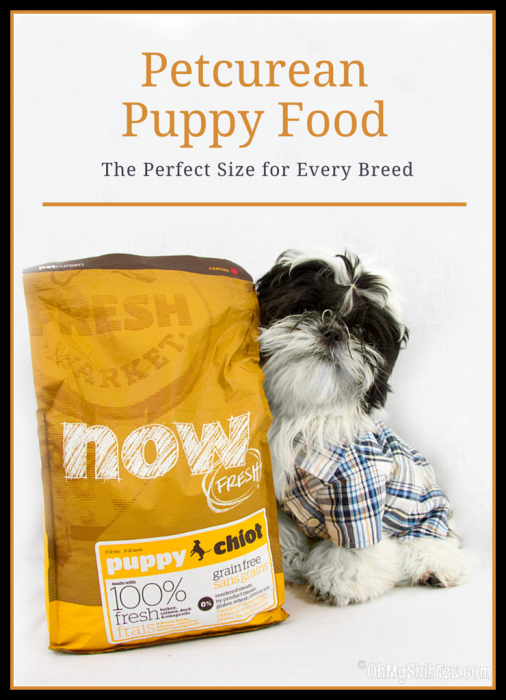 Different Sizes for Different Puppies
Don't you just hate to open a bag of food and the bits of kibble are huge? Or what if you have a big dog and he just inhales the food because its way to small? Well with Petcurean you don't have to worry about the kibble being to big or too small, it's made just the right size for your size of dog.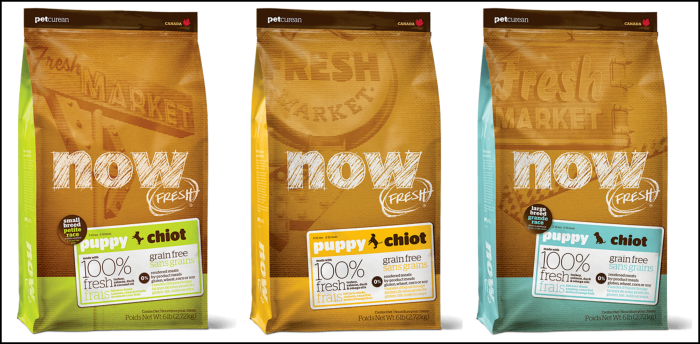 With three choices for your size puppy: small breed, regular puppy & large breed puppy there is a kibble size perfect for you.
The puppy bags are available in the following sizes:
Small Breed: 6lb bag only
Regular Puppy: 6lb, 12lb & 25lb bags
Large Breed Puppy: 6lb, 12lb & 25lb bags
Raise a Smarter Puppy
As you may know training your puppy in several short sessions every day helps him learn and retain skills, but good nutrition with the proper supplements also helps. The folks at Petcurean know this and that is why DHA/EPA is included to help support brain development in a growing pup.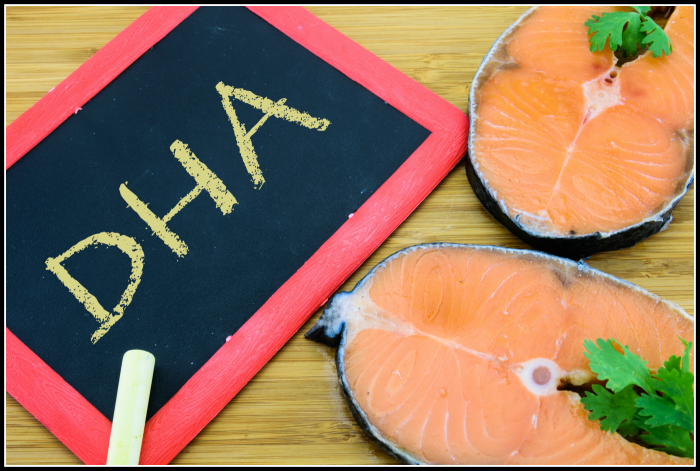 Giveaway!
So now for some fun! This month we are giving away one (1) voucher for a 25lb bag of Petcurean dog food! Yup you've heard it right, your choice of either the Go!™ or Now Fresh™! Just enter below!
But if you want to know more about Petcurean and the different recipes available check out the following blog posts:
3 Key Benefits of Feeding Petcurean Now Fresh Red Meat Recipe
Petcurean Limited Ingredient Diet for Dogs
Petcurean Now Fresh Small Breed Dog Food
Grain or Grain Free Dog Food, Petcurean Has the Right Choice for Your Dog
The Petcurean Difference for Small Dogs
Petcurean Go! For Your Dogs Active Lifestyle
Disclaimer: Petcurean has compensated us for being blog advocates of their products, and is providing food for Riley and the girls. Petcurean also has generously donated $500 of Petcurean Dog Food to Lone Star Shih Tzu & Lhasa Apso Rescue in Texas in the name of OhMyShihTzu.com . Lone Star is a wonderful Shih Tzu rescue that is close to my heart for everything that they do for the Tzus! Please know that we only share what we believe is good for your pet, and a brand you can trust. We believe in honest and truthful reviews to protect you and your family. The views of this blog are of my own and monetization has no bearing on my positive or negative reviews of a product.
Remember to always show a little #PetcureanLove